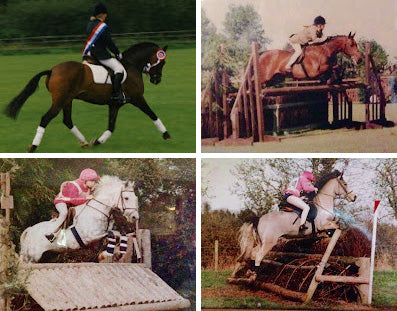 THE EARLY YEARS
I've been riding since before I can remember; learning to ride at a riding school, I was introduced to the art of falling off and getting back on, being bolted off with 'they will stop eventually', but you can't beat the thrill of galloping around fields jumping fences, it's just you and your horse at one with nature.
I began in the pony club, doing all the equestrian sports possible, jumping, gymkhana, triathlon, polo, hunter trials, eventing and the one I didn't find the most exciting at the time - Dressage
I had started really enjoying the dressage over the years as it really helped with my riding, discipline and jumping.
I took to Working Hunter Pony - a showing class where you had to jump a course in style and perform a show (like a mini dressage test) you and your pony had to be well presented to impress the judges, the jumps would also fall down if they were knocked!
I went on to be very successful competing in the English Team at the BSPS Championships and many other championships including the Royal International horse show, Ponies UK and HOYS, Whilst doing Dressage alongside.
I have very fond memories of the championships as it used to be our holiday, with my parents and my 3 younger brothers, 2 of which were also competing
I had some quirky but very talented ponies which meant they were affordable, my parents worked very hard to support me.
Progressing through Pony club I found I loved eventing, my pony could jump very well but I was lucky if I could get him 'on the bit' for the Dressage!
My parents decided I needed some dressage lessons to help my eventing career, and it did! I won the Senior Pony Club trials at the age of 11, seniors being up to 18 years old. That was it I had dreams of competing at Badminton Horse trials and the Olympics in Eventing.
I became very successful in Dressage, I enjoyed it as it was like a puzzle, you had to find the pieces (training techniques) to make it picture perfect!
I spent my School holidays working at Jane Gregory nee Bredin Yard, taking my pony with me and learning what it takes to work along side an Olympic Dressage Rider and her Horses.
I had my first taste of a flying change on one of her schoolmasters, and got to sit and walk Cupido (Janes Olympic Horse).
With the help and training from Jane, I took a cheeky 6yo pony up to European FEI Level.
Along the way being runner up in the talent spotting final, winning the pony derby 2 years running on 2 different ponies, 3rd at Hickstead International and making reserve for the European Pony Team.
THE MOVE UP TO HORSES
Following this when I left school I went travelling around Australia with my now husband 'Paul'. I came back to England a couple of years later, still wanting to fulfil my dream of competing in the Olympics, but this time in Dressage.
I bought a 4yo Danish Warmblood 'IBR Mollegard' with the help of my Nan, worked for the family business, while training my horse.
I had won a lesson with Carl Hester many Years previous, my parents called him and he agreed to give me one lesson, from then I have never looked back.
Through the years I have bought horses to sell to be able to make some money, I left the family business and started working as a groom for a local stud alongside this I also started to teach dressage.
Through the horses I bought, I found Rubins Nite aka 'Squeaky'. He was on a field very local to our yard; I saw him but had bought another horse instead. A couple of months later, I paid the livery the lady was owed from the owners and Squeaks arrived at my yard
Having been very successful with my other horses, Squeaks always stood out, he wasn't the biggest mover but he had trainability, and always wants to be ridden.
I have trained 4 Horses from Backing to Grand Prix and many more from backing up to Prix St George, Squeaks is my first International Grand Prix Horse.
He was very sensitive and sharp, but trusts me completely, we built up a partnership, he is now my Top International Grand Prix Horse, he loves carrots, being ridden first and loves going in the lorry.
We have been a successful partnership for many years now winning our first international in Barcelona 2015, being selected as non-travelling reserve for Rio Olympic Games 2016, Supreme British Dressage National Champion 2017, competing at the World Cup final in Paris 2018 and being a member of the World Class Podium potential squad since 2013.
Squeaks has taken me to places I only ever dream't I could and for that I'm very grateful to him.
I have some wonderful young horses coming up behind Rubins Nite, and hope they will follow in his hoofprints.